Influence of Technology in the E-Commerce Sector
The way in which E-commerce is transforming the shopping experience, is no less than the caterpillar to butterfly metamorphosis. In 1972, when IBM used the term E-commerce for the first time, the global business world had no idea that approximately one-fifth of the entire global retail sales would be online by 2021 in Asia Pacific, 78 % of it being from mobile.
Role of Communication in E-commerce
While most organizations deem E-commerce as crucial for their business growth, it still entails some grey area when it comes to maximizing growth opportunities. I believe sales, leads and conversions need to be tracked 24×7 to earmark the potential avenues for website traffic. Moreover, in third world countries like India, I strongly believe that beyond efficiency and convenience, there is a huge room for communication and connection. On a visit to a supermarket or a Pizza Hut in India, you would find a warm ambience of hospitality and customer service. This is in sharp contrast to the air in most Western markets, where people's focus is much more on speed and convenience. Flagship brands like Amazon or Flipkart are awesome on efficiency with standardized offerings.  But, I feel in a culture like ours, buyers need communication and connection in order to make shopping an 'experience to cherish' altogether. The ideal scenario would be a bazaar-like shopping experience where many small and mid-sized shop owners would assemble their merchandise and interact personally with customers. Irrespective of physically shopping at the store or electronically surfing, I staunchly believe that there needs to be a virtual personalization of the process.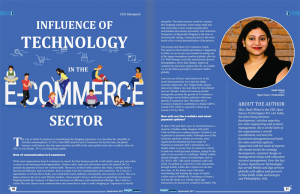 The Present and Future of E-commerce Trends
The speed in which mobile penetration is happening in India, we are on our way towards becoming one of the largest smartphone markets globally, after the US. With Strategic tools like meticulously skewed demographics, lower data charges, improved connectivity and newer options like 4G, no wonder we are the fastest growing E-commerce market globally.
I am sure you all have read extensively on the recent demonetization wave that the Indian economy underwent. The 'Digital India' project aims at providing a one-stop shop for Government services. Besides, Indian Government should strategically promote the growth of E-Commerce technologies across Indian industries with some specific E-commerce laws. Presently, the E-Commerce industry's contribution to Indian GDP is around 0.2% which is expected to shoot up to around 2.5% by 2030.
How Safe are the E-wallets and Smart Payment Options?
In spite of the jerk that it gave to most businesses, a majority of Indian online shoppers still prefer Cash-on-Delivery to online payment.  Comfort is yet to generate in payment modes. Although most of the electronic payment systems are nascent, some significant development has been made for business-to-consumer (B2C) transactions. In a market where everyone from E-commerce website to the bank has varied payment solutions, opting for the right service provider is a challenge. Mobile wallets operate through a variety of technologies such as 3G, Wi-Fi, NFC, QR (quick response) codes and cloud. According to a report by Crisil, transactions through mobile wallets have tripled over the last two years. As the frenzy soars with users downloading and learning the usage of mobile wallets such as MobiKwik, Freecharge or Paytm, I feel that the doubt over whether these app transactions are fool-proof would be inevitable. The reputed wallets, however, conform to all RBI security specifications and also have multiple layers of security. At the core, most wallet apps only require a click for its operation. This has a disadvantage too. In case of phone being lost, anybody who has it handy has control of your wallet. The savior in such cases is a PIN or fingerprint protection during money transfer. To top it all, a generic knowledge on protection against malware or virus is also necessary.
How is the Drone technology placed in E-commerce?
And now let me share that one thing which has occupied my interest zone of late: the E-commerce technology trend. E-wallets, One-click–checkouts, Smart buttons are still fathomable.  I consider the drone technology to be the showstopper. These unmanned aerial vehicles are evolving through the last few years and is undoubtedly one of the actively growing markets.  Like many of my co-enthusiasts, I take pride to know that introduction of this service in India is on the cards for Amazon. The density in our large cities is high which may be a hindrance for doorstep delivery through drones. In spite of that, in May 2014, the first-ever E-commerce fairytale occurred. A Mumbai restaurant did a 500-gram pizza delivery with a customized drone in Lower Parel. The total in and out time taken was 30 minutes, which was even lesser than what a delivery boy would need.
To sum it up, as we get going along the E-commerce path, let us keep in mind that discarded carts are fast being converted into contented customers.
About the author
Miss. Shaili Mittal is the CEO, OpenSource Technologies India, her forte being business development, solution expertise, pre-sales engineering and product management. She is at the helm of the organization's overall coordination, oversees the functional management and leads the sales activities up front. Supported with her team of experts, She masterminds the strategy development, customer design-in management along with exhaustive account management. Over the last 8 years, OpenSource Technologies has served Mobile and App services globally with offices and partners in New Delhi, India and Georgia and Philadelphia, USA.
Source: https://www.insightssuccess.com/influence-of-technology-in-the-ecommerce-sector/