OpenSource Technologies is Ranked a Top 100 Growing Business Award from the Philadelphia Entrepreneurs Forum for a 2nd consecutive year
Philly Entrepreneurs' Assoc. Affirm OST with Award for Its Financial Growth and App Development Work with Small Businesses.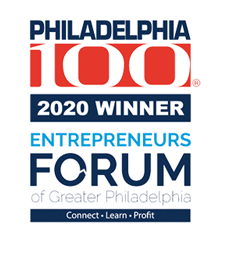 For the second year in a row, OpenSource Technologies enthusiastically announces its naming to the Philly100 Winners list for the top growing companies in the Philadelphia area. Not only is OST honored to receive this award as a repeat winner, but the organization is ready to use this award to propel its momentum toward its larger business and industry goals.
As the global and local markets turn increasingly toward digital platforms, OST looks to offer web and mobile app services to businesses of all levels of familiarity with software – from companies looking to upgrade their existing mobile apps to older businesses with no experience whatsoever marketing digitally. Some of OST's clients include local Pennsylvania automobile registration services and an FDA-approved plant cultivator in California.
The Philadelphia100 Awards, started by The Entrepreneurs' Forum of Greater Philadelphia in 1988, showcases home-grown businesses with tangible indicators of performance. Both the Philly100 and the EFGP focus on self-started companies who display unique entrepreneurial spirit in or around the larger Philadelphia area. These companies may obviously be based in Philadelphia, but can also have headquarters in New Jersey's Burlington, Camden, Gloucester, or Mercer counties, or Delaware's New Castle county in order to qualify.
As a marker of potential for Philly businesses with past alumni including Urban Outfitters, Forman Mills and Fiberlink, the Philly100 serves as a litmus test for companies built locally. Only businesses which demonstrate steady quarterly or yearly growth, as well as standout project or client-relations performance, receive a spot on the Philadelphia100, as laid out by the Award committee.
In order to receive this award, as laid out by the committee, a company must be independently owned, produce a three-year sales track record (at minimum) and have shown a full 12 months of sales in 2017 exceeding $125,000 gross revenue. Companies that declare bankruptcy at any time during their three-year demonstrated sales period become automatically disqualified from receiving the award.
With strong improvement in overall revenue as well as demonstrated added value in the apps and products which OST developed with its partners, OST grabbed a spot on the Philly100 companies. Increasing its top-line revenue by an estimated 150% between 2017 and 2019, OST has grown its business independent of the backing of any privately-held corporation. Exceeding $125,000 in sales in 2017 and only growing since then, with an estimated growth of 70-80% during the calendar year of 2020, OST has met or exceeded the financial thresholds outlined by the Philly100 committee.
As one client put it "[OpenSource's] team took the time to understand my business and kept devising ways to work with customers." One of OST's points of strength is the investment the company makes in client relations. With a culture focused on open communication within and outside its team, OST stakes its business model on the human satisfaction which underlies any goal for software development.