OpenSource Technologies wins Manhattan Award 2017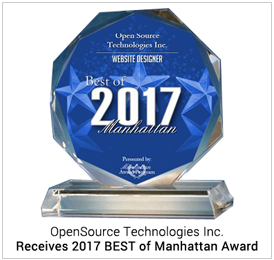 About Release
Open Source Technologies Inc. has been chosen for 2017 Best of Manhattan Award in the Website Designer class by the Manhattan Award Program.

Every year, the Manhattan Award Program recognizes enterprises that have made uncommon showcasing progress in the competitive market and business class. The small enterprises that improve the positive picture of a private company through the support of their clients and our group. These outstanding enterprises help to make the Manhattan range an awesome place to live, work and play.
About OST
OpenSource Technologies Inc. is a website designing and development company who Received Best of Manhattan Award in 2017 for the second time in a sequence. Manhattan Award Program -Honored the Achievement to the agency on March 15, 2017. OST provides multi-dynamic services such as Web designing and development, Application development and designing. Pay per click, Social media strategy, Web-hosting, PHP development and many more. To know more visit : (service page)
About Manhattan Award
The Manhattan Award Program is a yearly award program honoring the accomplishments and achievements of small enterprises all through the Manhattan zone. Acknowledgment is given to those enterprises that have demonstrated the capacity to utilize their prescribed procedures and implement their knowledge, idea, strategy and creativity on  projects to keep upper hand in the competitive world and long term esteem.
Different wellsprings and accounts of data were accumulated and segregated to pick the winners in every category. The 2017 Manhattan Award Program concentrates on quality instead of amount. Victors are resolved in view of the data accumulated both by internal inspection or the information given by external sources to Manhattan Award Program.
Explore Our Web Designing Services
What Manish Mittal the founder of OST said?
"It feels honoured and respected to get the Manhattan Award Program's 2017 Best of Manhattan award.It's unfathomably energizing to be perceived for our commitment and concentrate on item development and quality. This is the reason that the world's driving brands work with OST keeping in mind the end goal to manufacture their image, draw in new clients, benefit existing ones and connect with other key groups of onlookers in the new social economy."
Read Also >> OST Wins Best Businesses Award 2016
What New York Small Business Excellence Award said?
"Open Source Technologies Inc. has been selected for the 2017 Best of Manhattan Award in the Website Designer category by the Manhattan Award Program.
Each year, the Manhattan Award Program identifies companies that we believe have achieved exceptional marketing success in their local community and business category. These are local companies that enhance the positive image of small business through service to their customers and our community. These exceptional companies help make the Manhattan area a great place to live, work and play.
Various sources of information were gathered and analyzed to choose the winners in each category. The 2017 Manhattan Award Program focuses on quality, not quantity. Winners are determined based on the information gathered both internally by the Manhattan Award Program and data provided by third parties."