OST -Best Website Designing Company 2016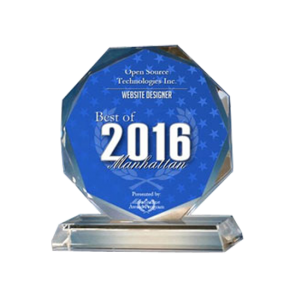 We are extremely eager to share that OpenSource Technologies has won the "Best of Manhattan " Best Businesses Award for 2016!
Every year, in and around the Manhattan range, the Manhattan Best Businesses Award Program picks just the best small scale enterprise for the honour. They concentrate on organizations that have exhibited their capacity to utilize different promoting techniques to develop their business notwithstanding troublesome monetary circumstances. The selected enterprise epitomize the best of independent enterprise; regularly driving through client administration and group association. This award is a result of the commitment, hardwork and efforts that have helped construct the association.