OST Won "2019 Philadelphia 100® Entrepreneurs Winners" Award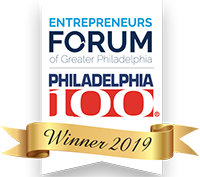 OpenSource Technologies (OST) has been selected as an Entrepreneurs' Forum's 2019 Philadelphia 100® Winner! This awards program honors the 100 fastest growing privately-held companies in the Greater Philadelphia Region.
As a winner, OST was evaluated and audited by Wipfli CPAs and Consultants. The integrity of the process and the resulting list makes the Philadelphia 100® one of the most sought-after awards in the region.
OST is honored to have made the list and cannot wait to see where it ranks among the best. In addition to being honored at the awards ceremony, OST  will also be profiled in a special section of the Sunday Inquirer which will reach over 1 million readers.
The awards ceremony will take place on Thursday, October 24, from 5:30 p.m. – 9:00 p.m. at the Crystal Tea Room in Philadelphia, PA. The event agenda includes a networking cocktail hour, a keynote presentation by Todd Carmichael, CEO & Co-founder of La Colombe Coffee, a formal dinner, and an awards ceremony revealing the rankings of the top 100 companies.
We are listed here- https://tinyurl.com/yyqbzd8o