It doesn't matter what type or size of business you run, sending bulk emails can be a beneficial tool for getting your name and new products out to clients. But how do you go about sending bulk emails without getting blacklisted or simply ignored?
Software tools can help.
To distribute mass emails in a short period, you have to use a third party platform. Programmers did not design popular services like Gmail to be able to send hundreds or more emails a day. Instead, Companies use SMTP (Simple Mail Transfer Protocol) apps and platforms to power their large-scale mail distributions. Each platform has its own strengths and weaknesses.
For companies who aren't experts in these protocols, software consultants like OpenSource can help you find the best workable solution for your business. For explanation purposes, we will focus on one platform here: Sendgrid.
For a business to effect change in their sales through email campaigns and digital promotion, they need to avoid alienating thousands of potential clients in the process. Platforms like Sendgrid have time-tested algorithms to help improve delivery rates – in other words the frequency and percent-chance your emails make it to the recipient's inbox. Sendgrid also has preventative algorithms for noticing suspicious behavior or emails sent from your account. This feature ensures no one is taking advantage of your mailing list.
When you send a mass email, you will inevitably alienate someone. But with the feedback you get with a third-party email software, you can make smarter decisions about who you send newsletters and bulk emails to. You know who is opening the email. Let's say you need to contact an investor or client with a pressing update last-minute. Platforms like Sendgrid provide the peace of mind that your email has reached the recipient's inbox, and at least the ball is in his or her court.
Sendgrid: a Smart Software for Sending Mass Emails with Higher Rates of Inbox Delivery
Sendgrid is a for-sale software built for distributing emails en masse. Sendgrid also has the capability to monitor how many recipients open, read and click through these emails. Using tools like Sendgrid, even non-technical users can fill an email template and initiate a mass email through a custom app.
To work, Sendgrid's mail distribution system connects to other channels using API's.
API: an Application Programming Interface facilitates communication between two programs/applications.
An API needs to connect Sendgrid with an existing program or app to send a mass email. Thankfully, Sendgrid provides API keys and tokens for developers to use to set up and customize their own system, based on a company's needs.
How to Integrate Sendgrid With an Existing Business to Send Mass Emails
Using a unique API token generated by Sendgrid, you can create a bridge between Sendgrid and a backend server, CRM system or a web platform like WordPress. With our clients, we usually connect Sendgrid's API to a custom software/apps we create.
This custom app has two ends: a front end (for customers who receive the bulk emails/newsletters) and a back end for admins and the client's team. You can initiate a bulk email from the admin side.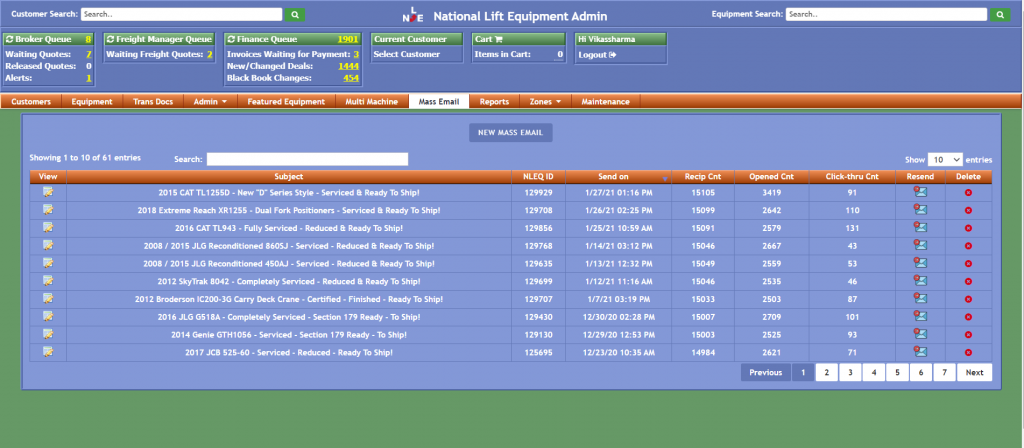 Tracking Bulk Emails with Sendgrid Through a CRM or Other Custom App
Once you distribute a mass email, Sendgrid will collect data on delivery rate, bounce rate, open rate, clickthrough rate, spam rate, and so forth. The reporting is not the most detailed, but it certainly provides a nice, basic picture of how recipients are responding to the email. Once the developer has linked the custom app and Sendgrid, you can see the reports generated in the UI (User Interface) of your own app.
One of the benefits of using a custom app or a custom CRM with Sendgrid is that within the app's dashboard, you can sort through emails with advanced filters. For example, you can filter your emails based on date, email IDs, status (i.e. Sent, Delivered, Not Delivered) and so forth. Sendgrid keeps track of which recipients mark the email as spam and which recipients unsubscribe from your mailing list. You cannot send emails to those recipients again.
In the dashboard of your custom app or CRM, you can receive weekly and monthly reports on the client's mass email/newsletter requests. You will also see a bounce rate and a spam report condensed into a readable quote. With a Sendgrid-provided 2-step authentication process, you can maximize data security on the emails you send through your app. Finally a Sendgrid-integrated app can send various types of emails, including but not limited to:
One to one client emails
Newsletters and promotions
Quotes
Invoices
Be Strategic with Your Mass Emails
This much is universally true: we all receive bulk emails. But each of these bulk emails provokes a different reaction from us. An email from a brand or business we personally like, an email from a service we need to follow for work, or a random promotion from someplace we've never heard of will cause us to respond either positively, indifferently or negatively. In the worst cases, we may block a bulk email sender, or mark their message as spam.
Smart platform choices and third party integration are ways OpenSource can help you send bulk emails strategically, and cut out the waste.