What is Geofencing Marketing?
We discussed the basics of "Geofencing" in our last blog. Geofencing is not one tool, per se, but rather an umbrella. Under this umbrella falls a number of high-tech applications that analyze geographic user data. And it's not hard for companies to find uses for Geofencing: over 90% of smartphones in the United States are compatible with Geofencing services. Although Geofencing can be used for a multitude of purposes in technology and software development, we will focus today on its applications for marketing, and the specific ways it markets to digital platforms.
How Geofencing Marketing Works
Geofencing marketing can be broken down into a three-step process:
You create a virtual Geofence with specific geographic parameters, and then place a marketing strategy or campaign within the Geofence.
A user activates the Geofence automatically by walking through the physical location with a smartphone.
The Geofencing program automatically sends a text-message, in-app notification, email, or so forth, notifying the smartphone user about your products or services. If you have a special sale or offer, the Geofencing campaign can offer it to the user at this time, and the user's data can be saved for later campaigns.
Let's take a specific example: a pizza restaurant in the Philadelphia area. Let's say you want to draw customers to your pizza shop – you can send them a notification about your restaurant when they open Google Maps or Uber Eats in your Geofence. You could get Instagram to run your page on "sponsored" when they come within a radius of a few blocks of your restaurant. You could even set up a Geofence around competitor pizza shops and send the user an offer on your pizza when they are near your competitor's shop.
The possibilities for Geofence-specific interactions with clients are pretty endless, but be careful. If you advertise a lot and indiscriminately, your marketing campaign could backfire. In other words, you could put off potential customers if you appear to be trying too hard and stuffing his or her inbox with promotional information.
Every business will be different, and will need to implement geographic marketing strategies differently depending on their audience. However, when used properly Geofencing can be an invaluable tool for drumming up an organic local client base for your business.
The Costs of Specialized Geofencing Services
In terms of buying and financially modeling the price of Geofencing marketing, the term CPM (cost per thousand impressions) is one of the most common metrics. Geofencing campaigns often cost as low as $4-5 per CPM, but you may need to target a large range for your audience, making the marketing more expensive.
Services like Snapchat charge a fee of around $5-20 to create a specialized 'event' or Geofilter, for users to create and spread images of your business with. Instagram will charge $4-15 per CPM for ads in a particular Geofence, but the price may increase (or decrease) depending on the number of competitors bidding for an ad spot.
Realistically, a business looking to employ a Geofencing marketing strategy will likely need a few thousand dollars at least to make any inroads. Smaller businesses may target a $1,000-$3,000 monthly spending figure on Geofencing marketing, whereas larger-scale companies with a wider reach and more target audiences can easily spend over $25,000 a month across multiple platforms.
How We Can Help Your Business with Geofencing
Within Geofencing, digital marketing companies use the following tools to actually get users to view their content:
Search Engine Optimization (SEO)
Paid search engine marketing
Social Media Marketing (SMM)
Newsletters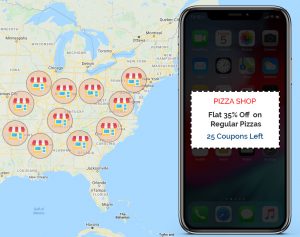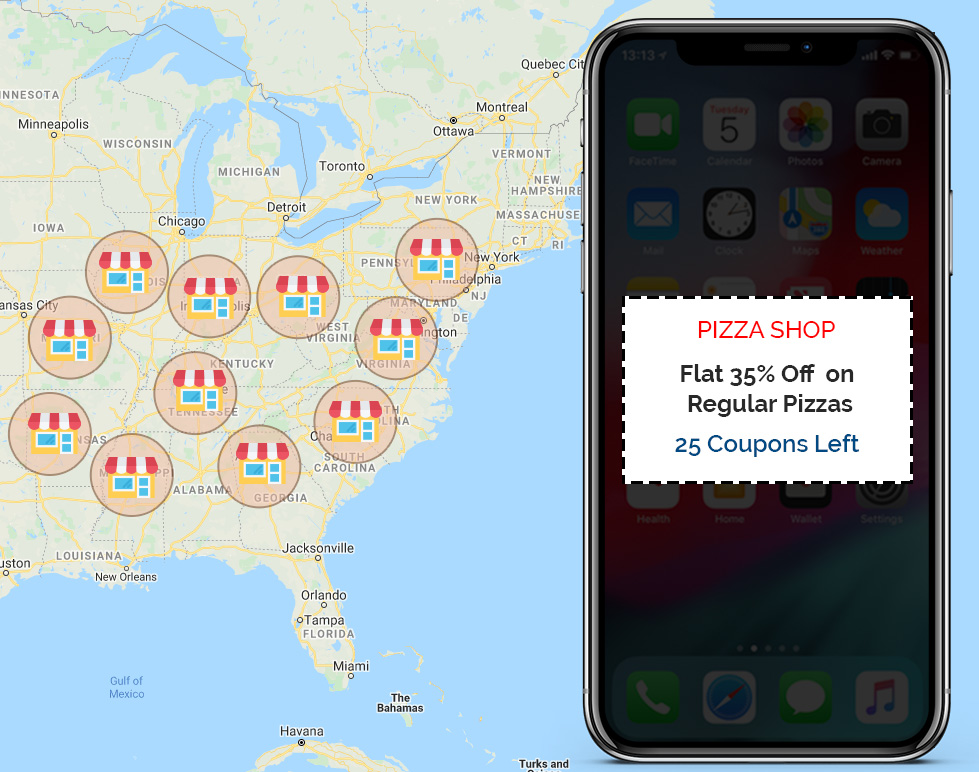 Search engine optimization, or SEO, has general applications which allow pages with specific keywords to rise to the top of search engine results. However, the SEO process can also intersect specifically with Geofences. Within a specific geographic area, you can gain insight into top-searched phrases using analytical software. Using those common geographically-specific keywords and phrases, you can get common local searches, like "pizza store in Philadelphia open now," to show your business's webpage.
Paid search engine marketing is slightly different from Search Engine Optimization (SEO). While both strategies aim to display a business's website on search engines like Google, Bing, Yahoo, and so forth, SEO strategies are more long-term, whereas paid advertising on search engines has more immediate costs and results. If you have produced enough content with popular keywords, and if clients consistently view your page, then your non-paid SEO work will help your page stay visible for weeks, months and maybe even years afterward. Paid search engine advertising immediately shows your page at the top of searches, though it is labeled with "advertising." You must pay a specific amount up-front, and once you stop paying then the search engine will stop marketing your page. However, the results are immediate, and for a business just getting off the ground this can be an excellent strategy for exposure.
You can execute social media marketing a couple of ways: through strategic content posting or by partnering with a popular influencer page. If you are creating your own content, you can market yourself through genre-creation and hashtag indexing. By marketing your pizza business using hashtags like #MadeInItaly, #AuthenticPhillyPizza, or even just #pizza, you can get your page viewed by thousands of users who are simply interested in finding pizza. If you partner with an influencer page, you can pay the influencer to market your products in a unique way on his or her channel, to his or her (theoretically) large follower base.
Finally, a software or digital marketing consultant can create a newsletter for your business. Newsletters, for those who either aren't interested or are far away from the business in question, can be annoying if sent out indiscriminately. However, for those who are interested in your business and brand content, newsletters can be informative, fun and useful for marketing your latest products and services. Using Geofences, you can locate an audience that both views your pages online and has an active interest in buying your products in services. Therefore, you don't waste time, effort and money on newsletters that a large percentage of recipients won't even bother opening.