If you are a business working in the United States, it is imperative you keep up with ADA regulations. The ADA is a set of laws that governs almost the entirety of private and public businesses, and failing to ensure your business's ADA compliance could get you hit with expensive, costly lawsuits, and major client frustration. Today we will go over some of the basics of the ADA, as well as a couple ways you can keep your company's website or web apps ADA compliant.
What is the ADA?
The ADA, also known as the Americans with Disabilities Act, is a civil rights law signed into law by the United States president on July 26, 1990 with bi-partisan congressional backing. The purpose of the law was to ensure the civil rights of those with disabilities in the context of employment, accessing public services, and accessing private establishments such as restaurants, shops, hostels and hotels, and public-access commercial buildings (places of "public accommodation").
There are countless conditions covered by the ADA, as well as many that are not; however, there is no definitive list with every condition covered. The ADA.gov website outlines:
"To be protected by the ADA, one must have a disability, which is defined by the ADA as a physical or mental impairment that substantially limits one or more major life activities, a person who has a history or record of such an impairment, or a person who is perceived by others as having such an impairment. The ADA does not specifically name all of the impairments that are covered."
In other words, the ADA makes it impossible for a commercial business to refuse you service, an employer to deny you fair employment, or a public service like a bus or a DMV to deny you fair access to their resources, on the basis of your having a disability such as blindness, deafness, diabetes, a major mental illness like depression, anxiety, or bipolar disorder, a learning disability, a social development disorder like autism, and so forth.
Why Your Business Needs to Keep Its Eyes on ADA Regulations

Persons with Disabilities (PWD) make up a significant portion of the United States population. Right now, analysts estimate that there are more than 55 million citizens with disabilities (roughly 19% of the total population). According to adacourse.com, this population continues to grow due in some part to the growing population of both war veterans and those who develop disabilities over time.
Adhering to ADA guidelines can lead the PWD to view your business and services positively, and therefore you can tap into the significant purchasing power and cultural capital that this group possesses. On the other hand, being ADA inaccessible can lead your business to a negative reputation among the PWD reducing your market appeal. Failure to comply with the ADA can often lead to hefty lawsuits and headaches.
How to Make Sure Your Website is ADA Compliant – Tools and Tips
The website is the first place a business needs to keep ADA compliant: your audience almost always encounters your business first through a Google search and a website visit. If your website is not up to snuff with the ADA, you could alienate a large group of visitors immediately.
Thankfully, there are some ADA test and audit tools at your disposal online to check and see if your website is fully ADA compliant! This one (ace.accessibe.com) is a good one, though there are others you could try as well.
To perform the audit, you can:
1. Put your URL into the search box
2. View your results, see how your website is fairing in terms of accessibility, and download a PDF of the audit
3. Send the audit to your programming team and assess your next steps
For even more resources on how to keep your services ADA accessible, you can access these resources from Accessible as well:
About accessible:       https://accessibe.com/company
Accessible's Product: https://accessibe.com/product
Compliance:               https://accessibe.com/compliance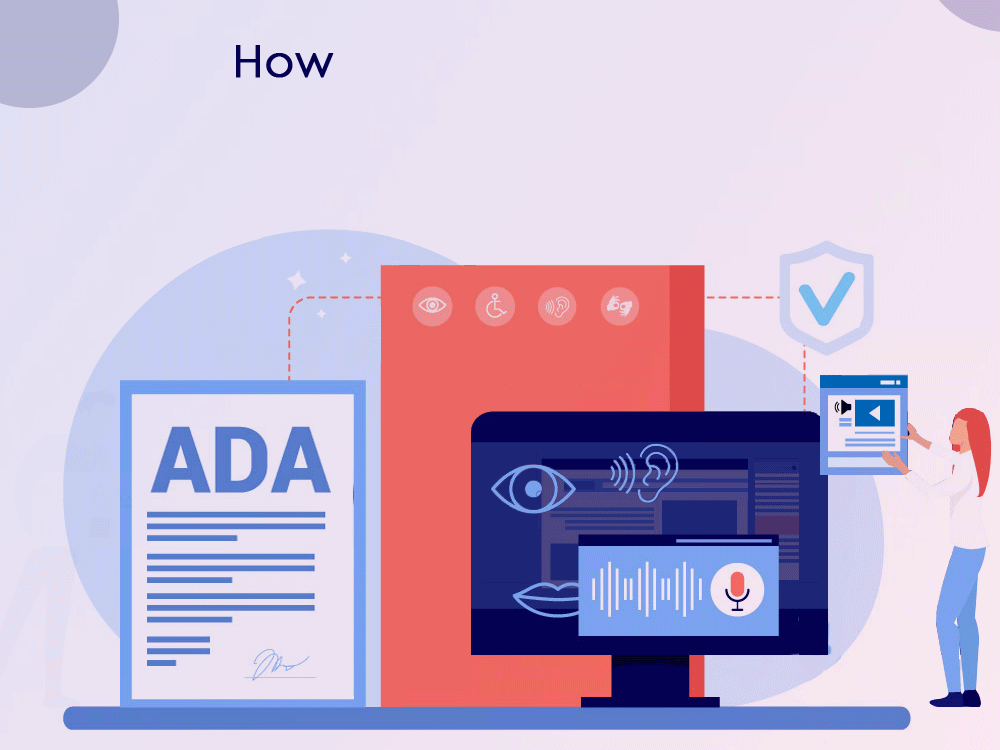 The Bottom Line
Though the ADA may at first appear to be a set of tedious, legal hoops your business has to jump through, these regulations do in fact substantially protect the vulnerable population of PWD in the United States, and therefore act as a central pillar of civil rights.
By staying on track with the ADA, you can demonstrate your sensitivity to those with disabilities and increase the viability of your business by tapping into the PWD market.
Who Needs to Stay ADA Compliant?
Right now, ADA compliance is a hot-button issue and a question on every business's mind. All businesses benefit from being ADA compliant, but some businesses are higher-up on the list. There are some types and categories of companies where ADA compliance is absolutely mandatory, and to learn if your business falls under these categories, you can follow this link.