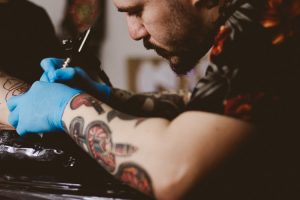 You're A Tattoo Artist? Do You Really Need An App For Paperwork?

The Tattoo Studio app is a service for all tattoo, piercing, and body modification studios to handle their paperwork. However, this is not an app that creates paperwork you print out. No. This is an app that provides the user with a paperless documentation system for a small fee every month, and we have more updates coming to make the app even better.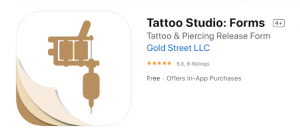 Tattoo Studio with 5/5 stars in the App  and Google Store.
What's The Point?
If you run a tattoo or piercing shop, you do not have time to print all your paperwork, get someone to sign it, and file it all away. You're killing trees, and you're wasting your time. You can hand your customers an iPad, or they can fill out all these forms before they ever come to your shop. If you are annoyed by all the paperwork you complete in a day, this is a good app to try. (Plus, it is a pain to get a cramp in your hand from filling out paperwork right before you need to draw a tattoo or do a piercing.
What Does It Do?
When you use the Tattoo Studio app, you are signing up for a paperless service that allows you to do all your legal documentation online. You can try it for free, and you can sign up when you are ready. The idea is to get all the documents you need in one place. You spend "less than an ink cartridge" every month on the service, and you can:
Create new forms at any time
Add only what you need
Customize these forms for your state/local regulations
Brand the app with your company's logo
Check on customer information without flipping through a filing cabinet
Check your staff list and all their forms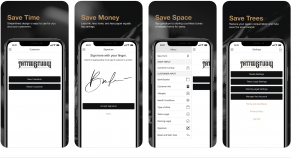 Well, What Else Can It Do?
The app was designed with a database that you can access from any mobile device. You get all the cloud storage you need, and your forms are automatically backed up in case your phone or device crashes. The subscription prices are easy to understand, and you can check your subscription in the app at any time.
This app works on both iOS and Android devices. This means you do not need to make a big change just to get paperless forms. You can share the app with anyone on your staff no matter what phone they use, and you can teach them how to use the app in seconds.
You can scan ID cards or driver's licenses, You can also add a passport or a birth certificate. You can click on the menu to go to any other part of the app, and you can get back to work fast.
*Tattoo studio paid extra attention towards customer data.
Are You Making More Money?
Yes. You never need to print a paper form ever again. The system accepts touchscreen signatures from your clients, and those signatures are superimposed on every document. At the end of the day, you have more time to take appointments. Don't you wish you had an extra hour in the day to finish your favorite client's flaming dragon tattoo? Now you do because the Tattoo Studio App did all the hard work for you.