We are very much aware that Google is going to implement the mobile-first index for their search results in 2018. It means that the Google search engine will use the mobile version of the websites to make its 'primary search engine index' database.
At a conference back in June, Gary Illyes, Webmaster Trends Analyst at Google, said that the launch will probably be in early 2018. But, as expected, Google is rolling out this update slowly, as this is a big step that has the potential to be proved disastrous for many of those websites that will not be prepared accordingly.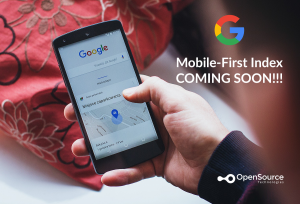 Since there is time in rolling this update in full; having that time period in mind, there are some things we can implement on our website to get ready for the arrival of the mobile-first index. Before going further on this topic, we assume that either you have a responsive website or a dedicated mobile (m.) site. You can even check about how good are you doing in terms of the mobile or responsive version of your website with the tool provided by Google here.
Before the time comes, we need not only to wait for mobile-first index to arrive, but we must be assured until that time about getting prepared for that. Otherwise, the after-effects may hamper the website's traffic and keyword ranking performance on SERP. So, in order to optimize your website for this update, below are five techniques or ways that will give you answer about 'How to make your website ready for Mobile-First Index in 2018' and ensure you about being mobile-first ready and gear up to maximize the conversion rate.
How to make your website ready for Mobile-First Index?
Make Your Website Super-Fast
Google likes the sites that are fast in loading whether it is on mobile or desktop. So making your website faster, specifically focusing on mobile, will make it better in terms of Google as it enhances the overall user experience (UX), we recommend starting with your site speed.
To improve the website speed, below are some ways that we recommend:
The Accelerated Mobile Pages (AMP) Project is an open source initiative launched recently to improve the website speed performance, especially on mobile devices. Due to the pared-down HTML used by Automated Mobile Pages, your website pages load much faster than usual HTML. Things like use of the streamlined version of CSS, JavaScript is basically not allowed, forms are out and more, all of these results in a faster user experience. Also, Google can host the AMP pages, so it is not even required to fetch them from you anymore. In turn, it leads to having the improved visibility in the SERP search results.
Top Tip: For a WordPress site, creating or converting normal pages into AMP is pretty easy by using plugins.
Progressive Web Apps (PWAs) are supposed to be the alternative to AMP. The main features that make PWA a good option includes:
Reliable: Fast loading and works offline
Smooth Functionality: Seamless navigation, smooth Animations, jank-free scrolling and even on flaky networks
Engaging: Receive push notification and can launch from home screen
You can read out more details about PWAs here: Google Developers Website
An abbreviation used for the combination of PWA built on AMP HTML, CSS and JS. This term (PWAMP) was first introduced by Google's Gary Illyes. Since the PWAMP websites may not validate as AMP pages, their speed is lightning fast and provide all the advantages of PWA as mentioned above. They may be the future of web design and development. So it worths to keep an eye on.
Top Tip: It would always be recommended to have a full mobile website audit before taking any new decision about its design and development.
Manage Your Content on Mobile:
As mobile first index is on the move, we need to focus on website's mobile version content because the SEO rankings will majorly depend on it. If mobile version of website lacks in content as compared to the desktop version, it may negatively impact its SEO performance. Responsive version of the website may also require proper optimization to provide best user experience.
Below are some important points that can help to manage content for the mobile version of website:
Avoid using irritating and irrelevant pop-ups on mobile because it blocks the user from accessing main website content which leads to frustration, hence results in bad user experience.
You can check out this Whiteboard Friday blog post about pop-ups to get more information.
As it is already told by Google that using accordion or drop-down menu to categorize (or you can say hiding) content is completely fine. Content behind the drop-downs will also be crawled properly. But it should be used sensibly depends upon the type of the website like real estate or E-commerce websites, otherwise, it can ruin the website design as well as user's experience.
As most of the mobile users cannot see flash content, it must be avoided to use in web development and designing. Apple has already killed 'Flash' and others should also replace flash with HTML5 or Java to add engaging and interactive elements in website design and development.
In many cases, it is seen that users click on something that they do not actually want to. It happens due to small sized fonts, tap targets, paddings and buttons. So make sure that the font size is at least 16px(base level) for easy reading and tapping on smaller devices.
Improve Checkout Process on Mobile Devices
As a fact, 85% of customers switch their devices while starting and finishing a purchase. So, it is required to make such checkout process that works fine and smoothly on all screen sizes and devices. It helps to speed-up the checkout process as well as lower the barriers to conversion.
Below are some techniques that can be used to make the checkout process more effective especially on mobile devices to get more conversions:
The website page speed matters a lot in terms to help get people to complete their purchases.
The checkout process should be as streamlined as possible. It helps to increase the convenience level of the user as well as speed up the process.
Smooth navigation means keeping only those elements on checkout page that people will need to click and read. No one wants to make the user fed up with unwanted details, especially on checkout page.
No one wants to irritate the user with pop-ups at the stage where he is just about to seal the deal. If it seems like the user is going to abandon the cart, it may be worth to show a pop-up that may get them over the line, otherwise, it is wiser to stay uncluttered and clear at the checkout.
Providing the option to save their basket for later (without having to sign up) is a good way to get the conversion; maybe later. Making user's basket available for checkout process is a good way to improve the chances of conversion.
Using push notifications to attract shoppers with offers while they are in-store improves the chances of conversion. So push notification is a good option to be considered.
'Android Pay' and 'Apple Pay' options make the payment process easier for the customers. It may be the difference between converting or abandoning the shopping cart.
Do Not Block JavaScript, CSS or Images
Unlike initial days, smartphones are getting more & more powerful in terms of processors, memory and capacity to deal with heavy apps and processes. So it is not required to block Javascript, CSS or images. Just make sure that you are not hiding anything. It lets Google categorize the content and accordingly rank it.
Keep 'Mobile-First' in Your Mind
We need to make our mindset according to mobile-first thinking and implement the processes like web design, web development and user experience accordingly.
Just because a website is responsive, does not mean that it is optimized for mobile devices. It becomes important to take your website design and development decisions based on the mobile experience. It's not easy to drive organizational change initially, but it will be worth it.
Summary
As the mobile-first index is approaching, we need to make sure that we are ready to handle it. If above points are maintained according to the requirement, we will be in much stronger position when Google chooses to make the final move. So, it is recommended to discuss these points with your SEO and web design & development team for all of your websites and projects.