Smartphone and smart speaker use is increasing continuously and voice search is gaining popularity day by day. According to one survey in 2022, US e-commerce business is estimated to generate $40 Billion revenue through voice search.
We already discussed, "How Does Voice Search Improve Your Company's Digital Marketing?" in our last blog. Now it's time to take the next step to optimize businesses using smart devices and speakers.
When you want to optimize your business for online searches, you need to remember that voice searches are a part of the equation. Because of this, you need to make sure that you have considered what makes voice searching easier for your customers. The home speaker market in America is exploding, and you need to get your business on the radar of people who use voice searches every day. Consider all the options listed below when you are promoting your business on Search Engine. It could be SEO, PPC, reputation management or lead generation. You can use a few simple tips to get ready for voice search.
Figure Out Which Search Engine Your Customers Use
If you are tracking the traffic for your company or website, you need to take a look at which search engines people are using. You might think this is silly, but you need to remember that each home speaker or assistant app uses a different search engine.


Google Home/Assistant and Alexa use Google to source all their information.


Siri (Apple) and Cortana (Microsoft) uses Bing to source search results.
If you have a lot of Apple users, you should target your Apple users by writing and designing for Bing. If you have a lot of Google and Alexa users, you should focus on Google. Cortana is the Microsoft replacement for Siri and Alexa, and you may need to target users of Cortana who complete their searches on a computer at work.
Check your tracking and monitoring information. You can see which platform was used, which device was used, and what the search terms were. This also impacts the business listings that you have.
Are You Featuring Your Location or Optimize "Near Me"?
Voice search will find local businesses easily because most people are using a home speaker in the house or the office. You rarely ask the speaker to tell you where to find a good cheesesteak in Philly if you live in Atlanta. You are searching for things that are nearby. If you live in Lansdale, you are asking about good Chinese restaurants in the Lansdale area. This means that your business needs to use as many location makes as possible. Simply use the state name if you would like to break up a long list of city or town names.
If you would like to be even more specific, you can use the names of roads and local landmarks. However, those landmarks need to be quite popular. If you are talking about a landmark that people have not heard of, it will be hard for them to find it when they come into town.
Use AdWords' Location Extensions
This is a wonderful way to ensure your ads are being displayed to those highly motivated on-the-go shoppers. Enabling AdWords's location extensions allows you to have your business' address, and directions to your business displayed alongside your ads.
You can use AdWords location extensions for PPC ads if you are running PPC.

Local Business Listing
The local business listing that you create should have all the information that a customer needs when they want to find your business. However, you also need to check your audience so that you know how your audience typically searches the Internet. Your address, phone number, and hours should be listed on the page. If a customer asks the smart speaker or satellite navigation system in their car to find a business in the area, they can be directed to your location. Plus, the speaker will read off all the things that you do. Fill in the tagline that explains what your business does, add the hours of operation, and include articles or reviews of your business.
You must claim your business listing on Bing, Yahoo, Google, and other platforms. You can use Yelp, FourSquare, or any other review app to make sure that your business look legitimate. If you have not claimed the local listing, it might seem as though your company is not active. Plus, all the different types of devices use different search engines to source data. You do not know which site or source of information will be found, and that is why you need to claim them all. This could go so far as starting a business page on Facebook, Twitter, and/or Instagram.
Are You Optimized for Maps?
Again, your customers are often asking the home speaker how to get to a business that is closeby, and the speaker can give them directions for your company because you are the highest on the search engine results. You must make certain that all your location information is consistent. If you are at 1 Main St. Lansdale, PA, you need to write all your addresses in the same way.
You also need to enter your phone in the same manner when setting up for maps. The maps programs will use your website, address, phone number, and business reviews from the search engine to give searchers results.
Apple: Visit the Apple Maps Connect page and use your Apple ID to list your business.
Google: Visit the Google Business page and use your Apple ID to list your business.
Long-Tail Keywords
Feel free to use as many additional keywords as you can when writing about your business. The long keywords and phrases that you use to describe what you sell will help people find you. You may have thought about how people search for a business like yours, and you need to think like a customer who drove by your shop, cannot remember the name, but knows what you do. For example, a customer may search for something like, "restaurant in Lansdale with a salad bar." If you own a restaurant that has a salad bar, you should talk about it as much as possible. "Patrons love our salad bar and an assortment of dressings (such as ranch, Italian, French, house, and honey mustard) we cobble together every day." You may also try something like, "our customers love our variety of street tacos, gourmet tacos, hard tacos, and soft tacos because we make them in as many styles as possible."
Therefore, you can write about what your company does in as many guises as you want. The home speaker user will use some of the words that you used to describe what you sell.
Use Structured Data Markup
Structured Data Markup language is known as Schema. Schema helps search engines return more informative results for users. It's a win-win for both the business and the searcher.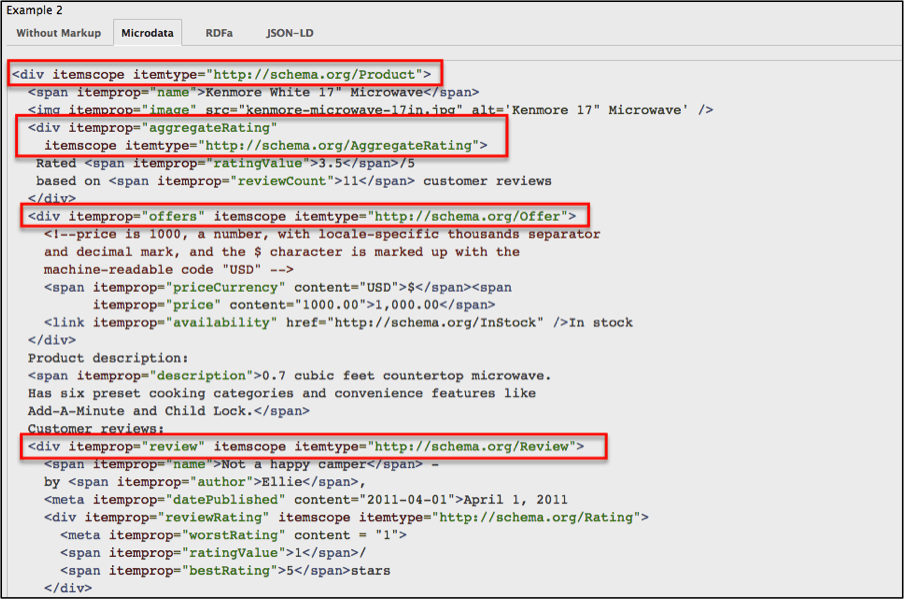 An example of a schema item type
Schema allows you to more extensively "describe" what the data on your website means. Schema makes it much easier for search engines to "understand" which can boost your business visibility. By implementing schema markup on your website, you're already putting your business way ahead of the curve.
A Final Thought
The voice search process takes a bit of trial and error. You can create a very good voice search plan for your Business, and you can continue to refine that plan using the information listed above. There are a few ways for you to ensure that you can get more voice search results, but you need to take your time to build the long-tail keywords, to use location keywords, using Schema Markup, and to check where your customers come from. Once you have done all your homework, you will find that your business has more voice search traffic at the door.