In 2020, the necessity of digital marketing has become such that just about the only way to market to someone is digitally.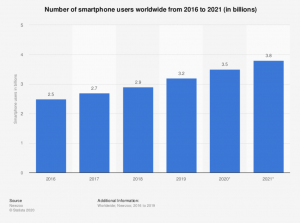 According to the statistics aggregate Statista, the amount of smartphone users has grown globally by 40% since 2016, from 2.5 billion to 3.5 billion.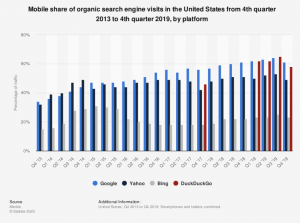 Content creator Quora Creative notes that in 2019 mobile devices accounted for approximately half of global internet traffic, and users in the United States made roughly 63% of all Google visits via mobile devices.
Let's say you're running a restaurant business, a how-to content website, an auto tags service, or an e-commerce platform – whatever the case may be. Creating a high-quality mobile application can substantively contribute to building your client base. While in the past businesses have focused on physical locations to cater to their clients, in an increasingly digital marketplace, companies of all sorts now need to cultivate a digital presence to reach their target audience and increase their business.
Creating an app has become so commonplace for businesses in the past several years as to lose some of its meaning. Yes, functionality plays the central role in the usefulness of any technology, and if your app can get the job done without any bells and whistles then you have in a sense succeeded. However, in order to connect with a client base outside of those who have an immediate need for your product, you must market your business to establish a connection, however small or abstract, between you and your customer.
More than just building a business, a company must also build its brand: an identity, narrative or stated purpose to help connect the company to its potential customers. Usually, businesses build their brands through advertisements and promotion. However, as it is the most direct line of communication to your customer, the mobile app has itself become a form of digital marketing.
By using capabilities of a custom mobile application software, you can both sharpen your business's image through high-quality UX design, and generate personal interactions with your client via push notifications. Furthermore, you can connect with your audience through third party software integration. Connecting your app to existing services can help your customer understand what you do and why you do it – he or she may not know your business, but they know YouTube, they know Twitter, they know Wikipedia, and so forth. If your audience has a point of reference through another app, it becomes easier for them to relate to your business.
A brand doesn't need to be extremely elaborate to communicate with its audience. An example of positive brand messaging from an app to a client could be as simple as: "good morning. I am here to help you check your bank accounts," via a message on a calming, minimalist background. It could be – "does politics worry you? Us too," and a curated, approachable list of articles to read. If you are running a restaurant business, you can send users of your app a push notification when their order is ready, or if you're offering $5 off of all deliveries one night.
Building a brand can essentially be boiled down to the way you communicate with your customer. Regardless of whatever industry you're in and whatever perspective you approach your business from, you must in some way directly address your client, otherwise you become just another option in a list. And in a moment where people rarely leave their houses, the screen is almost the only place to connect with the average person's attention.
Part of what customers respond to is the notion of a community, and your business can foster that notion through mobile or online engagement. Rather than bombarding your potential customers with emails, a more natural way into the consciousness of smartphone users is through social media. In fact, building your own brand in today's digital age almost requires interaction with popular media services. With a mobile app directly linked to other social media, you place your business in the context of other established, familiar platforms, making your brand easier to approach. Without a presence on Instagram, YouTube, etc., either through ads or creative content, a business has a reduced chance of getting on a customer's radar compared with businesses which actively employ digital marketing through advertisements or online content. Furthermore, you can integrate third party channels into your app through third party integration. For example, if you have a restaurant business, you can integrate your app with services like Yelp, for customer reviews, or GrubHub, for delivery.
Building your brand also means using design to reach your customers. Digital marketing means more than just having ads on Instagram – it encompasses a range of design and UX elements which custom software specializes in. Depending on if you like different visual elements from different languages of code, you could integrate different aspects of your interface from Java, PhP, Python, using custom software, in theory. On the other hand, prepackaged OTS UX design goes deeper than a simple web page design. With sophisticated design technology, you can curate an entire aesthetic with your brand, using colors, logos and images to associate your product with your brand identity.
A curated brand 'look' makes it easier for customers to remember your business, even if they only get a glimpse of it as a logo or an ad. Furthermore, with greater visibility and flexibility of code, design from a custom software developer allows for easy revision if your business changes its mind. By creating extra content, whether visual, audio, textual or a mix of the three, you can allow your user to inhabit a media portal through your web or mobile app. Not to get carried away here, but you can create a 'world,' or brand strategic, well-placed visuals. Despite being associated only with advertising, the term 'digital marketing' actually encompasses every moment a consumer spends looking at your product or brand.
Down to more coding brass tacks, mobile applications can integrate platforms in a variety of ways to adapt to existing technologies and work processes. A company could theoretically already use Google sheets for data input, or Venmo for payment. You may have noticed many apps allow you to create an account through an existing FaceBook, Instagram or Gmail account. In order to integrate those services easily into their new mobile app, a company would need a custom software capable of third party integration.
Mobile app development and building a brand are not intuitively connected – most developers think of custom mobile app creation only as a process of improving functionalities and work processes. Meanwhile, businesses often associate brand-building only with marketing. However, a custom mobile application does more than just sell a product, it curates it. It places the product within the context The personal touch added through custom push notifications, interactions with other well-known applications, as well as the mood evoked through visuals and animations within the app can help your business establish a specific point of view. Through the use of smartphones, your clients can connect to this brand narrative instantly via his or her mobile device.